News
Radicle Crops is on a mission to make quinoa a global crop
Published on

September 18, 2023
Radicle Crops, based in Wageningen Campus, is an innovative company that specialises in the development and application of cutting-edge breeding technologies to accelerate the introduction of novel crops into our food system. Their favourite candidate is the Andean super grain: Quinoa! According to Managing Director Andrés Torres Salvador and his colleagues at Radicle Crops, quinoa has the potential to transform agriculture and global diets.
What is the mission of Radicle Crops?
"Our mission is to tackle the lack of diversity in farms and global diets. Today, agriculture relies on a surprisingly small number of crops. By consuming and farming the same crops, again and again, we have weakened the resilience of our food production system. Farmers worldwide need new alternatives that are more nutritious, hardier in the face of climate change, and kinder to the environment. But they also need crops that can bring them a fair income.
Radicle Crops is a genetics research and breeding company with a primary focus on advancing novel crops. Our goal is to expedite the adaptation and domestication of resilient agricultural species that have been overlooked by institutional and commercial breeding companies. Our ethos is to harness the latest innovations in breeding to accelerate the adaptation of these novel crops to modern production systems that require fewer inputs while producing highly nutrient-dense foods. Recently, we made a massive technological breakthrough: we introduced a CMS-based F1 hybrid seed production system in quinoa. F1 hybrid breeding technology revolutionised maize breeding. We are convinced it will do the same for quinoa."
Why quinoa?
"Quinoa is an exceptional crop species. It exhibits tolerance to drought and salinity and can effectively produce food in marginal farmland where common staples struggle to grow. Furthermore, quinoa is gluten-free and is considered one of the few plant-based sources of 'complete proteins' for human nutrition. These attributes make quinoa an ideal crop for a plant-based future, aligning with sustainability goals.
For thousands of years, quinoa has been cultivated in the salt plains of the Andes in South America, specifically in Peru and Bolivia. Although eighty per cent of global quinoa production still originates from this region, quinoa has experienced widespread adoption since the Food and Agriculture Organization's (FAO) declaration of 2013 as the International Year of Quinoa. Since then, quinoa has extended its reach to over 123 countries, and its consumption has quadrupled on a global scale. Quinoa is becoming increasingly popular in the diets of industrialised nations and is a household favourite for those seeking healthy and sustainable dietary options. But nutritious food should be something for everyone. At Radicle Crops, our goal is to make quinoa widely available and accessible to everyone by developing varieties that can thrive anywhere in the world while ensuring that they are productive enough to provide growers with a competitive income and consumers with a fair price."
What are the challenges for Radicle Crops?
"Like most innovative start-ups, our greatest challenge is to create sufficient revenue to match our growing ambitions. We have a loyal client base for our varieties and a stable source of income to sustain our exceptional team and resource-intensive innovation pipeline, but our ambition is to make quinoa a global crop.
We are dedicated to developing the crops of the future. I firmly believe that quinoa and other often-overlooked agricultural species will serve as the driving force behind a healthier, more diverse, and resilient food system. It is imperative that we transition to more sustainable food production systems, as climate change is an undeniable reality. However, transforming our food system from its current state presents an immense challenge with an undefined timeline. To achieve this, we require supportive policies, improved tools — including enhanced varieties for novel crops — and a society willing to adapt its dietary habits. This is easier said than done, and until such changes occur, novel crops will struggle to compete with the economics of common staples.
It appears the world isn't prepared for the necessary transition. In the case of quinoa, we possess exceptional varieties, rapidly developing production chains, and the breeding technology needed to elevate this species to a global phenomenon. However, we need more traction and global food manufacturers and retailers have not yet shown the readiness to invest in this innovative crop."
How many and what kind of people work at Radicle Crops?
"Currently, our team consists of nine members, and by the end of the year, we hope to add an additional two colleagues. We function as an R&D company, and as a result, each team member has a background in genetics or breeding, all of us originating from the Plant Breeding Department at WUR. At Radicle Crops, some of us have had the privilege of acquiring skills related to business management and growth, which is an area I believe could receive more attention at WUR. The university serves as a fertile ground for cultivating innovative ideas to address the significant challenges facing our society. I would love to see more entrepreneurs coming out of WUR!"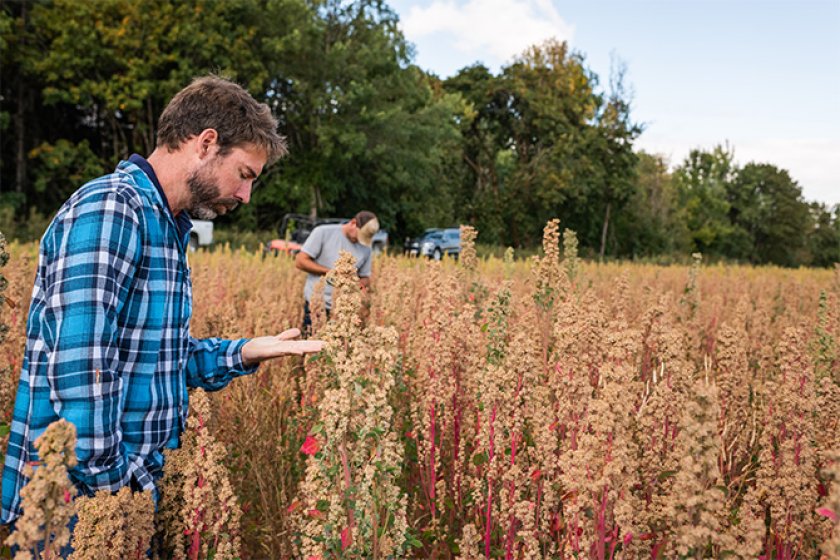 Why did you decide to setup your company at Wageningen Campus in Plus Ultra II?
"It simply aligned perfectly with our mission. Officially, we are a spin-off of WUR. We acquired our breeding programme from Plant Breeding WUR and maintain an ongoing collaboration with them to pioneer cutting-edge technology for the accelerated breeding of quinoa and other novel crop species. Together, we have secured nearly 4 million Euros to advance the field of quinoa breeding and the development of high-speed breeding technologies for novel crops, which includes our innovative F1 hybrid breeding system. We also rely on the services of UNIFARM for our research and breeding trials.
Even more crucially, our presence within the campus ecosystem allows us to tap into a pool of talented scientists and breeders who are eager to join our project or contribute innovative ideas through collaborative efforts. The people that come to study at WUR share the spirit, ambition, and ethos for change that drives Radicle Crops. Additionally, we have the privilege of sharing this space with other esteemed breeding companies, such as KWS Vegetables. This setting provides an excellent opportunity to engage with industry peers, fostering discussions on creative ideas, offering insights into recent developments in our field, and sharing the challenges we encounter while striving to build sustainable enterprises.
In the long run, I aspire to see us make more extensive use of the shared facilities provided by WUR. The shared facilities system is a brilliant concept and could serve as an invaluable resource for innovative companies within the campus ecosystem, particularly for a company like ours. With limited CAPEX budget, having access to cutting-edge technology offers us a significant advantage. Regrettably, the costs associated with using these shared facilities often exceed our means. In some cases, it has proven more cost-effective for us to procure the necessary infrastructure ourselves rather than utilising shared resources.
I believe that WUR's intentions are commendable, and I am hopeful that, as a community, we can collaborate to establish a dynamic environment where companies can make more extensive use of, interact with, and collaborate through the campus facilities."
Do you miss things on campus?
"As I mentioned earlier, I believe WUR's shared facilities should be more accessible to start-ups, both in terms of knowledge sharing and pricing. Additionally, I feel that the campus community could benefit from improvements, fostering more opportunities for interaction among great minds. I have always believed that we can build our luck by bumping into as many people as possible. What we need is a vibrant focal point, a gathering space that forces people to gravitate to campus — perhaps a welcoming coffee shop featuring personalised coffee brews, the funkiest bar in town serving molecular cocktails, or a farmer's market featuring food created using WUR innovation and knowledge. Such a space would encourage individuals to step out of their isolated workspaces, interact, share ideas, and create an environment akin to Silicon Valley, a true Food Valley where everyone in the food industry wants to be."
How do you see the future of your company in Wageningen?
"If we are successful, I would love to stay on Wageningen Campus. WUR is unrivalled in the realm of breeding, driven by innovation and forward-thinking. It's essential for us and WUR to maintain this spirit. We're already globally recognised as the foremost quinoa breeder, and now we, along with other stakeholders, must invest in our business and cultivate new technologies. Our most significant challenge lies in generating market interest in quinoa and other alternative crops, and we are fully aware that this will be a long-term endeavour. Nevertheless, I remain optimistic and see numerous opportunities ahead for our business."