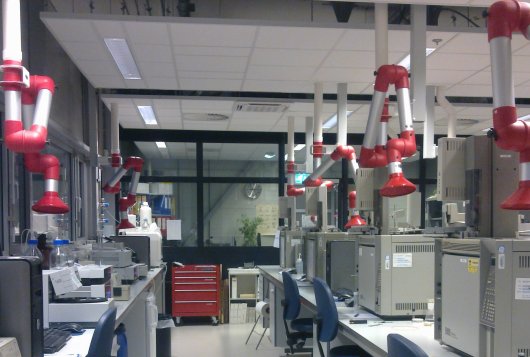 News
LeAF laboratory further improving its services
Published on

January 26, 2017
As you may know laboratory testing is one of the services that LeAF provides to her clients. The tests that are carried out vary: biological tests under anaerobic or aerobic conditions or physicochemical tests for e.g. recovery of nutrients (N, P, and other) from a variety of waste streams or combinations thereof. Often our clients have specific questions that require a tailor-made approach. A preliminary desk study may be part of our services to assess the possibilities for a certain approach. LeAF shares its facilities with the sub-department of Environmental Technology of Wageningen University & Research and has her own laboratory with access to the analytical facilities of the sub-department of Environmental Technology, and a cabin in the Modutech lab. Also, the building is equipped with vacuum toilets and water free urinals allowing us to do tests with separately collected waste streams and enabling us to further strengthen our work in New Sanitation.
Some of our recently carried out projects are:
Development of a new draft standard for digestion of bio-based materials together with our colleagues in the FP7 Open-Bio project;
Mesophilic and thermophilic biodegradability of bio-based products;
Removal of organic micropollutants from treated wastewater by sorption processes;
Biochemical Methane Potential (BMP) tests with different sludges;
Biodegradability of wastewater from industries both under anaerobic or aerobic conditions;
Assessment of the stability of digestate from digesters;
Analysis of vital indicators for monitoring of anaerobic reactor performance;
Activity tests and toxicity tests;
Recovery of nitrogen and phosphorous from manure and other organic waste streams.
LeAF is constantly trying to improve the performance in the laboratory. For the BMP tests we attended a workshop in Leysin, Switzerland in 2015 at which 40 people from 30 different laboratories were present to discuss the optimisation of the BMP. This resulted in a publication (Holliger et al. 2016. Towards a standardization of biomethane potential tests, Water Science and Technology, 74(11) 2515-2522, doi: 10.2166/wst.2016.336). The optimized method is currently under evaluation in a round robin test.
Please contact Miriam van Eekert (miriam.vaneekert@wur.nl) or Els Schuman (els.schuman@wur.nl) for more information on laboratory tests or advice on possibilities.