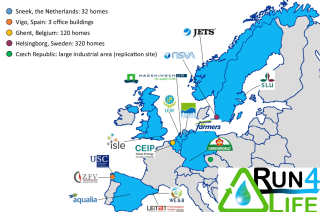 Project
Bringing New Sanitation to the next level in Europe: Run4Life
The EU H2020 project Run4Life radically changes the "end of pipe" approach in wastewater treatment by efficiently recovering nutrients at the source. The integration of innovative technologies for decentralised domestic resource recovery and wastewater treatment will achieve >90% of water reuse and enable 100% of nutrients (NPK) to be recovered as hygienically safe fertilisers. This will be achieved by implementing holistic recycling concepts at four locations in the EU. LeAF is one of the partners in this project, disseminating the results and contributing to the Circular Economy by applying New Sanitation.
LeAF participates in this project, together with 14 other partners from 7 countries. The consortium consists of leading universities, knowledge centres, consultancies, technology providers, and fertilizer companies from Spain, the UK, Sweden, Belgium, Germany, Norway and the Netherlands. The project will lead to a replication study for a large industrial zone in the Czech Republic, where a water utility, large automotive industry and end-users have already given their commitment to implement the Run4Life concepts, thus illustrating the market potential.
After a kick-off that was held mid-2017, work is now well underway. The Belgian partners have outlined their plan for a New Sanitation plant for 400 houses in Ghent, to be built within the next two years. Also Helsingborg in Sweden will install such as system for about 400 houses in the next years. This brings these cyclic solutions to the next level in Europe, providing a viable alternative to current practises to deal with wastewater. In Sneek (the Netherlands) an innovative system will be developed within the existing demonstration site at Lemmerweg, that makes use of anaerobic digestion of wastewater at high temperature (70˚C). Experiments have started to show the feasibility of producing a hygienized liquid effluent with high nutrient content. Fertilizer companies have expressed their interest in this product and are closely following the developments. In Vigo (Spain) a bio-electrochemical technology for nutrient recovery will be tested, and also decentralized treatment for wastewater of an industrial site is implemented. It is expected that the first results will be available after two years.
For more information, please contact Iemke Bisschops (iemke.bisschops@wur.nl), and keep yourself updated at: run4life-project.eu. You can also follow us on linkedin.com/in/run4life-project.